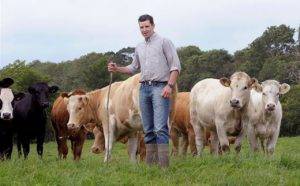 Company ROTEL LLC started operating in early 2015 as a result of a long-term cooperation between Croatian and Romanian cattle experts.
After a long time spent studying the best cost-effectiveness and efficiency in the cattle industry, we have come to the present results. The final conclusion is that only quality yields the best results in further breeding. Starting from the careful selection of the best meat breeds to taking all preventive measures in breeding, we pay great attention in cooperation with feed specialists (Fanon LLC) to proper development of digestion (rumen) in calves, i.e., preparations for further fattening. The results of test weightings of calves indicate good predispositions for continuing quality work. Poor accruals in non-prepared calves (purchasing very young calves) extend fattening time as well as the possibility of developing the disease due to lower immunity. It is always apparent (but only at the end of the fattening process) that cheaper and unprepared cattle are ultimately the most expensive.
Our desire is for our quality to be recognised, as well as to continue cooperation not only in the form of trade but also in further breeding. The situation in agriculture is changing, and only those with the highest quality survive on the market.
We mediate the import of quality calves and heifers from Slovakia, Czech Republic, Hungary and Romania. The minimum quantity for direct import is one truckload of calves – heifers.
You can see the quality of our calves yourselves by visiting us at the farm in Lacići.